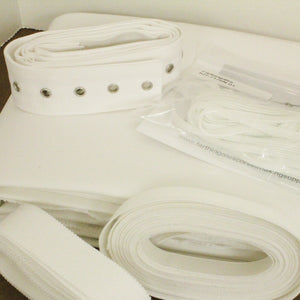 Corset Making Kit X - White, no bones or busk
Regular price
$117.00
$0.00
Unit price
per
The X stands for extra. This is a general supply kit of white corset making supplies, that can be used for any corset and any size because it contains extra product. This kit gives you what you need...when you're not sure what you need, but think you need a bit extra.
This corset kit includes:
1.5 meter of herringbone coutil (approximately 140cm/ 54" wide)
1 meter of lacing tape - so you don't need to set grommets!
5 meters of 24mm wide Petersham ribbon (enough for binding the top and bottom edges and for making a waist stay tape)
10 meters of 3/4" bone casing tape for wider bones ( 1/2" or 11 - 13mm)
10 meters of double faced satin ribbon for lacing
NOTE: all materials are white
This will give you all the software you'll need. For hardware...
Choose a busk from our busk selection and choose bones from any of our bone categories. New to corset making? You may want to start with synthetic whale bone German Plastic - it's great for corset making as it's strong and durable but you can cut it with scissors.
Don't have a pattern? You'll find some in our Corset Pattern section
Be sure to check out our many corset making books available for immediate download.
---
Share this Product