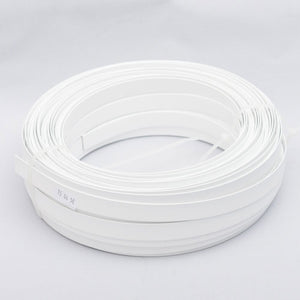 Hoop steel 14mm (9/16 inch) wide X .6 mm thick
Regular price
$18.00
$0.00
Unit price
per
This Hoop wire is 14mm wide(slightly more than 1/2 inch) X .55mm thick, this is our strongest hoop steel which is capable of supporting large hoops and heavy fabrics without collapsing. It cannot be used for the tighter curves as required by a bustle.

You will want to use this hoop wire when making a farthingale to support the heavy upholstery fabric often used for Elizabethan skirts. This hoop steel will help create and maintain the shape you desire without getting bent out of shape or rusting! Walk through narrow doorways, sit in a car...or anywhere else and just get up and walk away with no fuss. If you need strong support and longevity from your hoop petticoat this is the right product - you may never need to replace the garment you make with this. Check out the "hoop connectors" above - they will make it easy to make hoops. 
Note 1: there is a 20% discount factored into the 50 meter price

Note 2: 1 meter is 3 inches longer than 1 yard

Note 3: scissors will not cut this steel. You need tin snips and they work best if they have the letters CrM (yes, lower case r) molded into the jaws.
Note 4: the white coating is thermoplastic elastomer