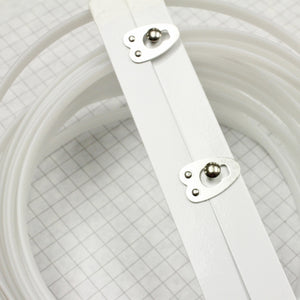 Corset Bone and Busk Kit - Synthetic Boning
Regular price
$23.00
$0.00
Unit price
per
I usually recommend that you get your mock-up done before you order bones and busk because it's impossible to known what length you personally will need, until you have made the mock-up and altered it to fit you.
However, sometimes people are keen to jump in and it saves on shipping if you can get everything in one order. So, I've developed a simple kit of busk and synthetic whale bone "German Plastic" boning that works so well for corsets that we sell over 7,000 meters of it a year! You can cut it with scissors - so you don't have to buy any special tools.
Each kit includes:
10 meters of 7mm wide (1/4") boning which is more than enough for an over bust corset. 
1 silver colour busk in the length indicated
Note: Busk lengths are the average for specific types of corsets; Waist Cincher = 8", Under Bust = 10", Over Bust = 12" or 13". If the busk you order is too short - place it as high on the corset as possible and add a hook and eye at the bottom.